STOCKMAR

Founded by Hans Stockmar in 1922, first with beekeeping products and beeswax candles, then at the urging of art teachers he developed the modelling beeswax. Over time and with Waldorf teachers, Stockmar created other products, most notably the wax crayon, watercolors and wax decorating sheets.
Today Stockmar products are known around the world for their uncompromised quality and production adherence to high pedagogical, artistic, social and environmental standards. They are regularly subjected to testing by independent laboratories in Germany to insure their safety and purity.
Based on Goethe's Theory of Color, the color range is consistent throughout the entire Stockmar assortment. Almost all of Stockmar's art products are available in this wide range of colors which complement each other. Meaning a carmine colored pencil or wax crayon, is the same carmine as the watercolors, modelling beeswax and decorating wax. Therefore the mixing techniques of combining crayons along with watercolors produce a very harmonious effect. This specific choice of colors, the mutual harmony of the individual colors and the excellent mixing capabilities, is what we refer to as the Stockmar Color Harmony.
STOCKMAR – for lots of creative fun
 For nearly 100 years, the name STOCKMAR has stood for the highest caliber of art supplies. We belive impact on individual development. We approach and maintain quality in a comprehensive weve that quality includes the aspiration to create artistic spaces which have a positiay: through the careful selection of raw materials, first-class processing and excellent color, paint and modeling properties. This allows us to create exceptional products which support a rich, artistic experience—be it at home, at kindergarten or school, or in a therapeutic environment.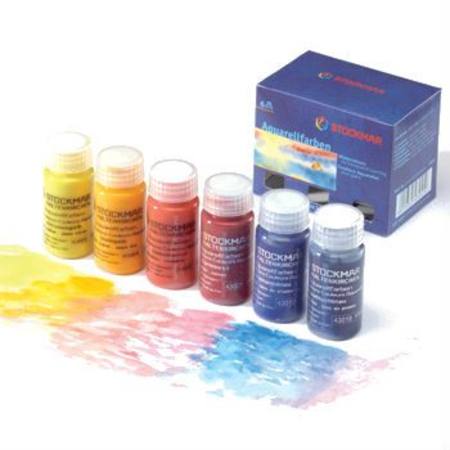 STOCKMAR Color Harmony – because color matters
Color matters—Johann Wolfgang von Goethe was well aware of this and the vibrant but harmonious color palette of all STOCKMAR products is based on his famous color wheel. Goethe's color wheel boasts the whole rainbow—made from the three primary colors: blue, red and yellow. The finely balanced consistency of all STOCKMAR colors developed out of this harmonious color wheel and an understanding of the effects that individual colors have on people.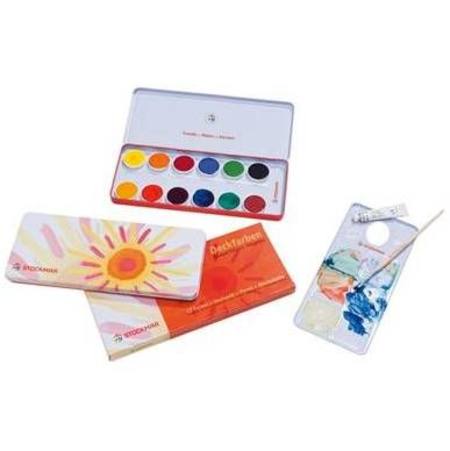 STOCKMAR Quality – traditionally responsible and safe
We use selected raw materials, which we employ in a balanced, restrained way, for our product formulas. The finer points in the composition are the result of decades of experience. STOCKMAR products pose no hazards to health or the environment. Out of a sense of responsibility to our world, when it comes to manufacturing our products, we go above and beyond the legal safety requirements.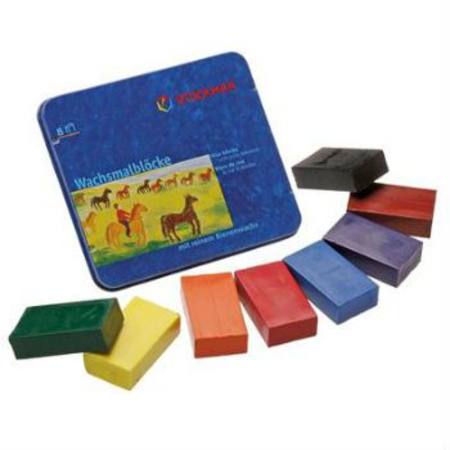 STOCKMAR wax crayons enable excellent color application while remaining break-proof. The natural beeswax produces warm, well-coordinated color tones. Crystalline waxes act as a carrier for transparency and give the colors structure and gloss.
They are available as individual wax crayons or blocks with 32 vibrant colors to choose from. Because of their flat shape that make it easy even for children to hold on to, the blocks are especially suitable for beginners.
The special texture of STOCKMAR wax crayons allows for both delicate drawings and intensely bright images. The transparency and depth they offer make them ideal for glazing and scratching techniques as they open new realms of artistic discovery. These naturally luminous colors and the pleasant aroma of beeswax make painting a sensory experience.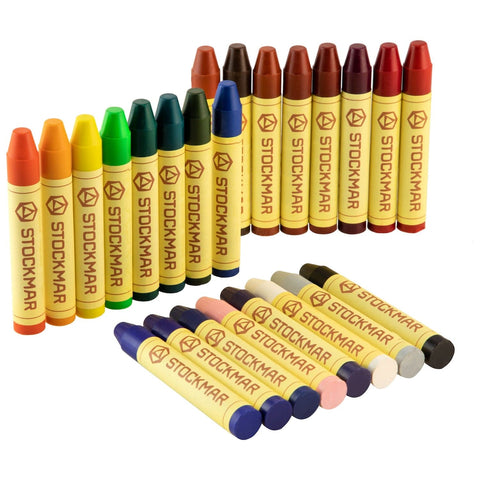 The balanced blend of moist and dry components form the basis for the leads in STOCKMAR colored pencils. Thanks to a precisely balanced amount of high-quality micro-crystalline wax, every color has its own unique depth and light. The colors have been carefully selected and are perfectly coordinated.
These STOCKMAR colored pencils are available in 24 vibrant colors or as an assortment. They come in triangular and hexagonal forms. The soft and extra-strong lead boasts excellent sharpening and break-proof properties, and rests stably in the untreated, FSC®-certified limewood barrel.
STOCKMAR colored pencils have a soft but intense, quality color which is dust-free and break-proof. A special characteristic is their transparency and glaze. Applying the glazing technique will allow children to create especially striking effects and give their pictures depth.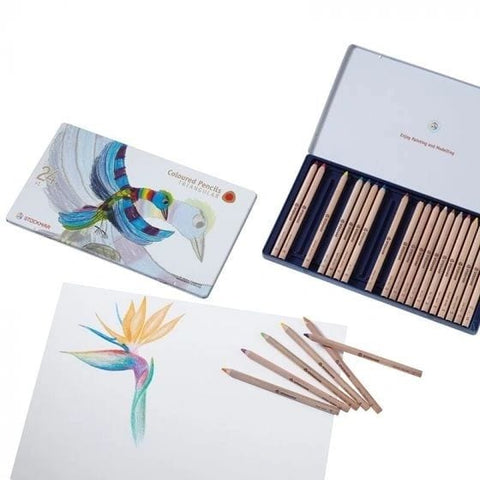 STOCKMAR watercolor paints
The abundance of the rainbow from just three primary colors: blue, yellow, red. As with all of our colors, STOCKMAR watercolor paints were developed based on Goethe's color wheel. Based on this harmony and the knowledge of how colors affect people, we created vibrant, luminous color worlds that boast a potent brilliance and high translucency.
Our STOCKMAR watercolor paints are available as individual colors and as an assortment, with 19 different colors available. The blue, yellow and red color wheel paints are also available as individual colors.
The colors of STOCKMAR watercolor paints can range from delicate to powerful and bright depending on the dilution and the number of transparent layers applied. For an intense color experience, apply the colors to wet paper and discover the mysterious and lively world of colors by mixing different tones.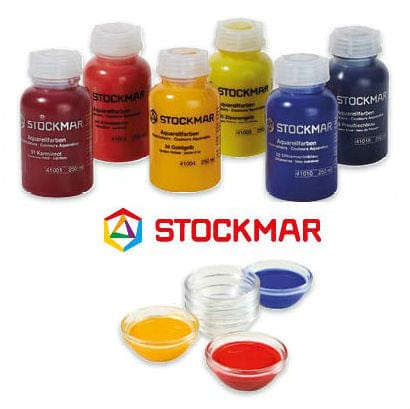 STOCKMAR opaque colors are characterized by their high proportion of pigments. This formula ensures intense colors that look bright even when dry. The variations of primary and mixed colors enable nearly unlimited blends of individual colors.
STOCKMAR opaque colors are available as an assortment of 12 opaque colors, opaque white, a paintbrush and a mixing palette, or as ten individual colors in color wells. The accessories are also available separately. They are also included in our "painting and drawing" gift sets, which consist of colored pencils sets, an opaque color box and a drawing pad.
STOCKMAR opaque colors are highly versatile: from opaque painting with rich color planes to precise work with a fine paintbrush, from glazing with several layers of color to delicate watercoloring. You can create interesting accents by combining these opaque colors with water-repellent STOCKMAR wax crayons.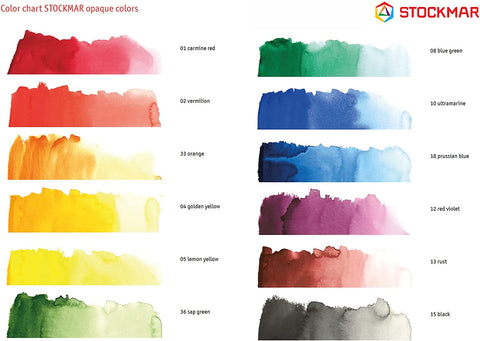 STOCKMAR modeling beeswax
STOCKMAR modeling beeswax is both versatile and clean. Initially hard, its consistency changes in the hands' warmth, becoming malleable and allowing all conceivable shapes to be made. The high proportion of beeswax gives the modeling beeswax a translucent, luminous appearance.
STOCKMAR modeling beeswax is available in luminous, coordinated colors and contains a very high proportion of pure beeswax. It comes in 15 different colors, or as a basic or main assortment of 6 and 12 colors, respectively.
The pleasant scent of beeswax and the act of working the wax with your hands makes creating shapes with STOCKMAR modeling beeswax an experience for all the senses. Your creations will maintain their form, color and shine, allowing them to be reworked whenever necessary. The modeling beeswax's transparency lends your work a stunning brilliance when held up to light.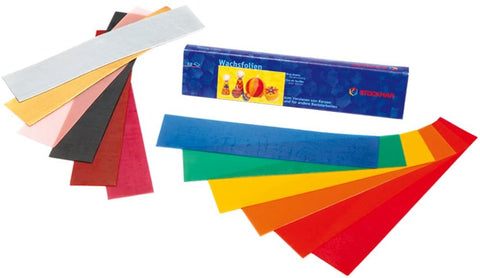 STOCKMAR decorating wax adhere well to a variety of surfaces. They are therefore suitable as decorative and design elements for celebrations and other occasions. The special quality of this decorating wax is especially evident against a bright background. Its translucency lets the colorful radiance completely emerge.
STOCKMAR decorating wax is available in 18 individual colors, or as an assortment of 12 or 18 colors. Two different sizes are available to meet a range of needs.
STOCKMAR decorating wax can be cut, stamped or gently warmed by hand before being shaped. The possibilities are as endless as your imagination. It can be used to decorate candles, create little figures or add sculptural details to pictures. Decorating wax can also be combined with modeling beeswax.