Using Sarah's Silks for Open-Ended Play
Sarah Lee, creator of Sarah's Silks, smiles while reflecting on her oldest son's early childhood days. "Mom, I am a turtle today. I need some green to wear." "I need some wings to fly today - blue ones!" Or, "She is the princess and I am the knight. We need some pink, purple and red colors." First Sarah reached for an old silk scarf. Her son loved the smooth, silky feel. Finally something he didn't declare itchy! Soon she found herself dying squares of silks to support his play.
8 Ways to Use Sarah's Silks for Open-Ended Play
1. Baby Doll Wrap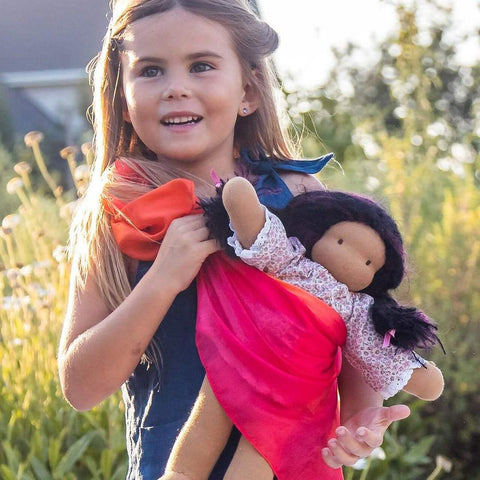 At bedtime, my daughter likes to lay in bed with me and look at baby dolls. She asks me to do this every night. The other night she spotted a doll-sized baby carrier and immediately asked for one. I told her I had an even better idea! We could use a silk to tie up her baby. I wrapped my children many times as infants, so it was quick for me to do this for her. 

We wrapped the baby up, and she was ecstatic that she could wear her doll, "Snow White," around just like I wear her one-year-old brother!


2. Fort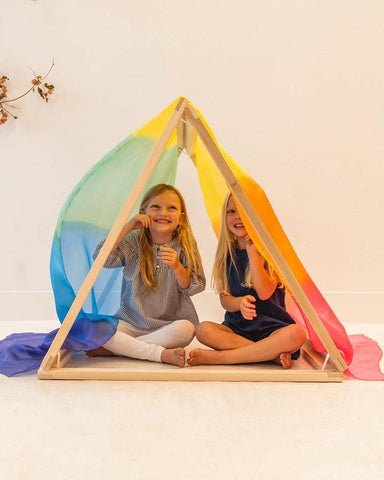 When paired with Sarah's play clips or a Pikler triangle, the silks can become a fantastic fort. There are other options for creating forts such as Waldorf arches and play frames, but our kids prefer a tree, chairs, or their triangle. We frequently take a silk and play clips with us when we head to a forest preserve so we can build forts in nature. It makes for lovely shade when the kids play with their mobile mud kitchen.

3. Cape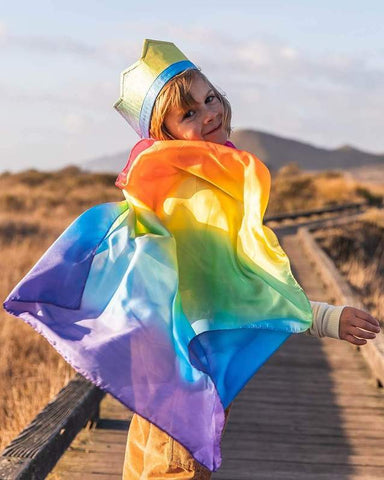 From the images, using a play silk as a cape can be pretty self-explanatory. The silk is folded and tied around the child's neck/shoulders. It is perfect for medieval and superhero play! Paired with a Sarah's Silk crown, a little one can become royalty!
4. Veil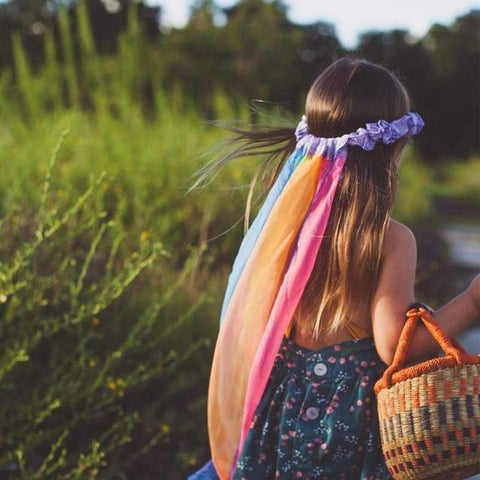 Sarah's Silks makes a veil that is a princess-lovers dream! Isla prefers to wear it on her head, although I've recently tried to show her how it can also be used as a tail, cape, flag, and more. She tells us that she is a ballerina and twirls while wearing it, or puts it on and tells her brothers to save her because she's a princess in trouble!
5. Playscapes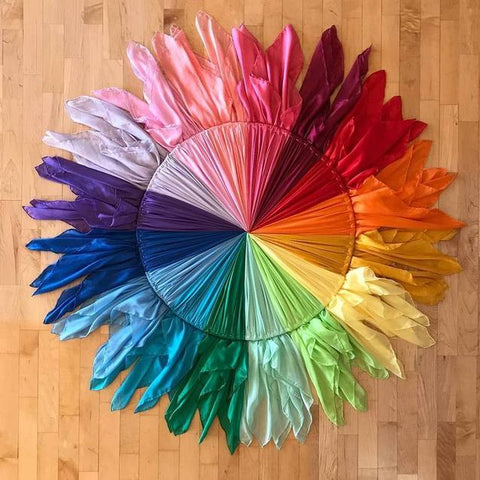 Sarah's Silks can be used to create playscapes along with other toys. Our children use them to form water and desert for their safari animals, or water in a water park scene.

6. Flag or "Kite"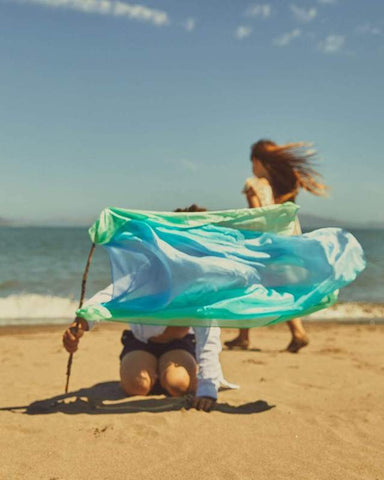 These silks are incredibly versatile. They can be tied to a stick and used as a flag or kite. They can also be help between two children to see it wave and move in the wind, much like a kite would. Our kids love to run with the stick flags because the silks are mesmerizing to watch as they flow in the breeze.

7. Stroller or Wagon Shade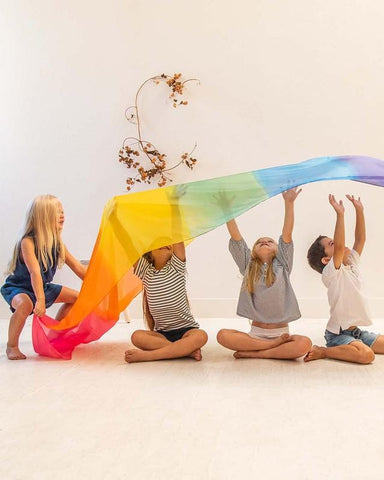 When paired with a few clips, the silks can become the perfect shade for a stroller or wagon. Not only is the shade pleasant for your little one, but it's a fantastic sensory experience. When I put the Giant Silk in ocean on our Keenz wagon, Max laid his head back and watch the silk wave in the breeze for the rest of his ride.
8. Water Play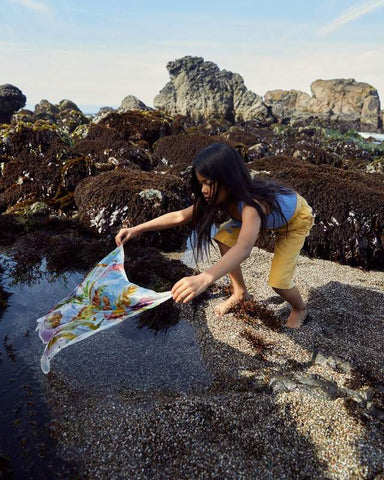 Taking Sarah's Silks in water is an easy sensory activity. The silks move so naturally in the water, shifting and creating pockets of air. My kids enjoy "popping" the bubbles, engaging with the silk as it shifted, and pretending they were on a boat flowing with it down the creek. The silks are easy to clean after too. Just a quick rinse in cool tap water and hang dry. The silks could be used in water as small as a bucket or as large as an ocean; there are no limits! Adorable Mini Kelp Forests with a pufferfish, sea horses, sea stars, shells, a jellyfish, and sea turtle swimming in a gentle water-colored sea.