9 Montessori-Inspired Puzzles For Your Homeschool Science Lesson!
Stuka Puka is a beautiful brand that makes one-of-a-kind educational wooden puzzles and sustainable toys designed and hand-crafted in Poland. Every single product is designed and created by the brand's genius founder and her team. Stuka Puka products encourage both the parent and the child to take a step back from screen time and engage in creative educational play.

Stuka Puka wooden puzzles are an invaluable tool for any preschool or homeschool environment. Inspired by Montessori and Waldorf methodologies, Gever Tulley's creations and the work of Richard Louv. They are perfect for developing fine motor skills, engaging visual and tactile senses, encouraging little and big kids to investigate, learn and discover. Stuka Puka cooperate with therapists, psychologists, teachers and doctors to ensure that their puzzles are accurately designed to support the development of a growing mind.
If you're looking for Montessori-inspired toys to facilitate a homeschooling science lesson plan, you've come to the right place! Today, we're sharing our favorite educational puzzles from Stuka Puka as well as our go-to play-based learning activities!
Senior Writer & Editor
            
With many parents homeschooling kids due to Covid-19 (a number of us at The Tot included), we've been looking for toys that will help expand our play-based learning curriculum.

As advocates of the Montessori Method, this has meant finding open-ended options that allow kids to engage with them in a number of ways.

Recently, we've been focusing on creating activities that teach our kids (between ages 3 and 8) all about science! From bodies to bees to bears, we've had a wonderful time exploring the world around us thanks to the wooden puzzles from Stuka Puka.

Made of FSC certified 100% beech plywood, these beautifully detailed puzzles offer kids the chance to hone their hand-eye coordination, expand their vocabulary and learn to think critically. Fantastic for classic puzzle play, we extra love them because they can be used in multiple homeschool science activities!

Scroll down to learn more!


9 Montessori-inspired wooden puzzles for homeschool science lessons (& play-based activities)


HOMESCHOOL ACTIVITIES: INSECTS 101
Objective: Understand the life cycle of ladybugs, beetles, bees, butterflies, ants and mosquitoes!

Areas of development: Critical thinking, vocabulary, hand-eye coordination and fine motor skill development

While your child can use the Stuka Puka 4 Layer Bug Life Cycle Wooden Puzzle in a classic puzzle-play way, you can take the activity further by getting them to:
Trace each piece and then free-hand the depiction of each stage
Match the insects who have similar life cycles (e.g. bees + ants vs ladybugs and beetles.)
Identify the bugs that typically bite or sting
Draw each bug in the type of environment you'd typically find them in (e.g. a butterfly near a flower, ants underground, mosquitos in the woods!)
Go on an adventure walk in the backyard to try and find each bug
Write the scientific definition of 'Entomology'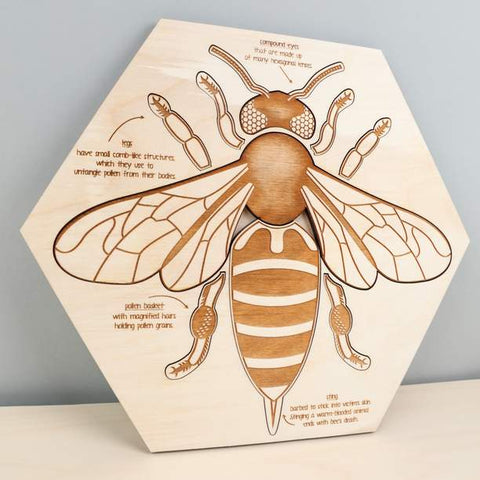 HOMESCHOOL ACTIVITIES: HUMAN ANATOMY 101
Objective: Discover what's going on inside our bodies and learn the names of bones, organs and body systems.

Areas of development: Critical thinking, vocabulary, hand-eye coordination and fine motor skill development

The Stuka Puka Anatomy Puzzle features five layers of highly detailed wooden pieces that show kids what's happening inside their bodies! While taking it apart and putting it back together will help encourage critical thinking and hand-eye coordination, you can take your lesson further by encouraging your child to:


Find the bones that we have two of (e.g. two clavicles)
Find the bones we only have one of (e.g. manubrium)
Count how many ribs we have
Lay down so you can trace their body. Have your child then draw their internal organs, skeleton, and digestive system.
Trace the puzzle and then color in internal organs, skeleton and body system of choice
Compare the human skeleton to an animal skeleton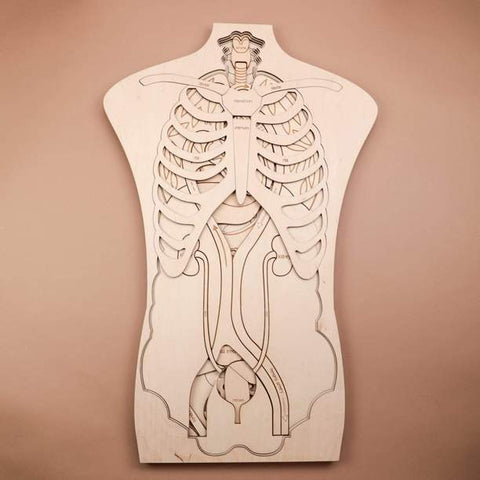 Stuka Puka What's Inside Me Puzzle
HOMESCHOOL ACTIVITIES: DINOSAURS 101
Objective: Learn the names of dinosaurs, introduce the Mesozoic Era, identify characteristics of dinosaurs and landscapes

Areas of development: Critical thinking, vocabulary, hand-eye coordination and fine motor skill development

The Stuka Puka Dinosaur World Wooden Puzzle introduces kids to the reptiles that once walked the earth as well as the volcanic landscape! Take the lesson further by encouraging your child to:


Draw their own prehistoric world
Write the name of each dinosaur
Identify which dinosaurs eat meat (carnivores)
Identify which dinosaurs eat plants (herbivores)
Identify which dinosaurs eat both meat and plants (omnivores)
Use a tray of compact sand to stamp each dinosaur piece to imprint an outline
Set up their own archeological dig in the backyard
Find out where the name 'dinosaur' came from
List the three periods of the Mesozoic Era (Triassic, Jurassic and Cretaceous)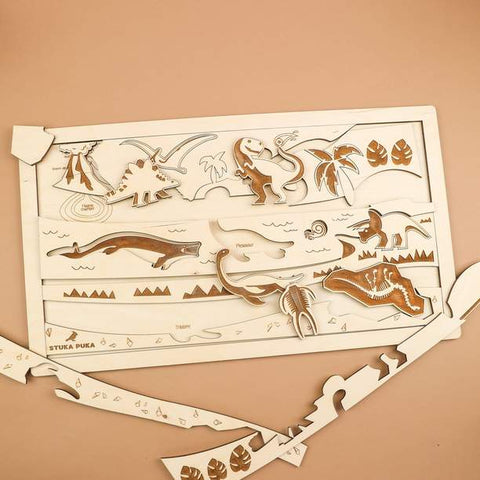 Stuka Puka Prehistoric World Puzzle
Stuka Puka Dinosaur Skeleton Puzzle
HOMESCHOOL ACTIVITIES: ASTRONOMY 101
Objective: Learn the names of planets, concept of orbit and order of our solar system.

Areas of development: Critical thinking, vocabulary, hand-eye coordination and fine motor skill development

For an out-of-this-world exciting astronomy lesson, you can use the Stuka Puka Solar System Puzzle to teach your tot all about our heliocentric solar system and the Stuka Puka Moon Phase Wooden Puzzle to demonstrate just how many phases our moon cycles through! Take the activities further by encouraging your child to:


Use a large piece of paper to trace and draw the solar system
Order the planets from largest to smallest
Write each planet's name
Use sidewalk chalk to draw a make-believe solar system on the driveway
Class the Terrestrial Planets (Mercury, Venus, Earth and Mars)
Class the Gas Giant Planets (Jupiter, Saturn, Uranus and Neptune)
Stuka Puka Everything Under the Sun Puzzle
HOMESCHOOL ACTIVITIES: ANIMALS 101
Objective: Learn the names of animals, identify tracks and characteritics of the animal kingdom

Areas of development: Critical thinking, vocabulary, hand-eye coordination and fine motor skill development

It's time to take a walk on the wild side! Using the Stuka Puka animal puzzles, help your child learn to identify what makes each animal's track unique! Take the fun further by encouraging your child to:


Use a pencil and paper over a puzzle piece to reveal animal tracks
Draw each animal in the environment you'd typically find them in
Order animals by size (small to large)
Identify the difference between foot, paw, hoof and claw
Demonstrate vertebrate vs invertebrate
Identify the five classes of vertebrates (amphibians, birds, fish, mammals, and reptiles) and class each puzzle piece
Go on an adventure walk and try to find actual animal tracks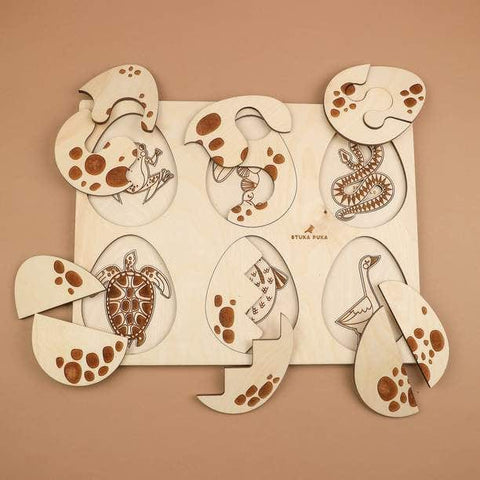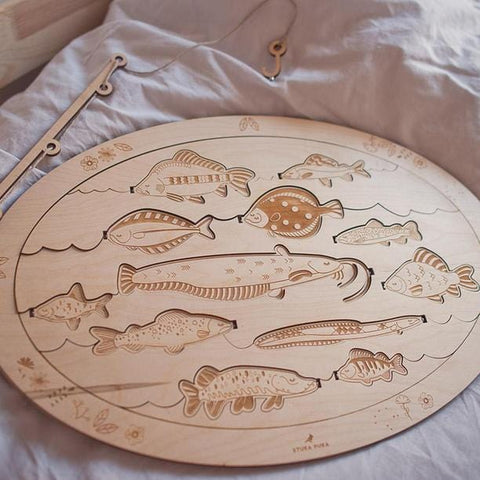 Stuka Puka Plenty of Fish in the Sea Puzzle
Stuka Puka Chicken or the Egg Puzzle